Full time Physiotherapists – Auckland District Health Board
We have a great opportunity for you to work in our Physiotherapy Musculoskeletal department in the largest DHB in New Zealand. Working at ADHB ensures you can have an amazing Physiotherapy career as well as a great work-life balance. If you like to have the choice of an outdoor lifestyle and cosmopolitan living, this is the place for you. With close access to mountain biking parks, surf beaches and award winning restaurants, when working for ADHB you can have it all!
Do you want to:
Work in a social, passionate and dynamic physiotherapy team?
Have the opportunity to work in a variety of clinically exciting fields, including national and regional services that are specific to ADHB?
Be supported to progress your professional growth with access to clinical supervision, mentorship, a comprehensive in-service training programme and funded CPD activities?
If so, one of these jobs could be for you!
Our outpatient service operates as a secondary and tertiary provider seeing patients with a wide range of respiratory, orthopaedic, rheumatological and musculoskeletal disorders. Our first priority is to supporting hospital speciality clinics and services such as Respiratory, Orthopaedics, Rheumatology, Transplant Services, Oncology and the Pain Service, and we also have a contract to see General Practitioner's patients who live within the ADHB area. Successful applicants will have the opportunity to work with a wide variety of conditions from specialist services at our Greenlane outpatient.  The applicant will need advanced clinical reasoning skills, excellent time management and have a good underlying knowledge of musculoskeletal assessments and treatment interventions.  Clinical caseload will depend on your experience & area of interest.   There are opportunities to get involved in service development projects and research, with close links to the local universities and avenues for funding.
Auckland DHB aspires to provide the highest standards of patient care and staff engagement which is underpinned by our organisational values of Haere Mai (welcome), Manaaki (respect), Tῡhono (together) and Angamua (aim high).We are looking for full time physiotherapists to join our dedicated and welcoming team. As a service, we are passionate about best practice and innovation. Regardless of your experience, you will receive a thorough orientation and be well supported in your role.
For copy of the position description click here or copy and paste below link into your internet browser:
www.aucklandhealthjobs.com/resources/pdf/ADHB/Physiotherapy Adult Team PD Update 2017.pdf
If you need any further information about these positions, please contact Desiree McCracken, Allied Health Team Leader at DMcCracken@adhb.govt.nz or Vickie Shakur, Recruitment Consultant at VickieS@adhb.govt.nz
We look forward to hearing from you soon!
To submit your application, please click on the Apply button below or visit our website www.careers.adhb.govt.nz and enter job number CEN07075. 
Applications close: Sunday 10th June 2018
Locum Physiotherapist – Mt Eden, Auckland, NZ (Includes accommodation & Vehicle)
We need an experienced locum physiotherapist with manual therapy skills to look after our small accredited practice in the heart of Mt Eden, Auckland. This locum is for a 3 week period from September 24th – October 12th, 2018. The hours are negotiable up to full-time for 1 therapist but 2 therapists could share the role part-time. Remuneration is excellent with a generous retainer. This is a sole practice position with full reception cover and clinical support if needed. The role can include accommodation & vehicle if needed. A NZ Annual Practising Certificate is required.
For sale –
Shares in Private Practice in Invercargill –
Owner/operator needed to join busy city practice with 25 years of business history in the province.   One third shares on offer.
Must be a practicing physiotherapist with the ability to work within the business.
Seeking a self-starter who wants to join an existing team offering physiotherapy with an emphasis on manual therapy excellence, patient empowerment and functional rehabilitation. Apply in confidence to Chris Gibb, Prohealth Physio. Email: chris@prohealthphysio.co.nz
Physiotherapist wanted – July to December 2018
Alexandra – Central Otago – 
Here at Alexandra Active Physio we are looking for a locum physio to cover leave from July to December (negotiable).
We are looking for someone with great people skills, and alsogood musculoskeletal skills and experience.  An acupuncture qualification would be an advantage.
There is the possibility of the position lasting beyond the six months for the right person. 
Come and enjoy working with a fun and friendly team in a small NZ town.
Email Denise at activePT2@gmail.com
Locum Physiotherapist wanted:
Auckland – Mt Eden
Locum Physiotherapist required for 3 weeks from 24 September to 12 October 2018 in accredited private practice located in the heart of the Mt Eden village.  Experience in private practice required.  Hours are negotiable with an excellent retainer. Please contact Sharon James:  admin@prohab.co.nz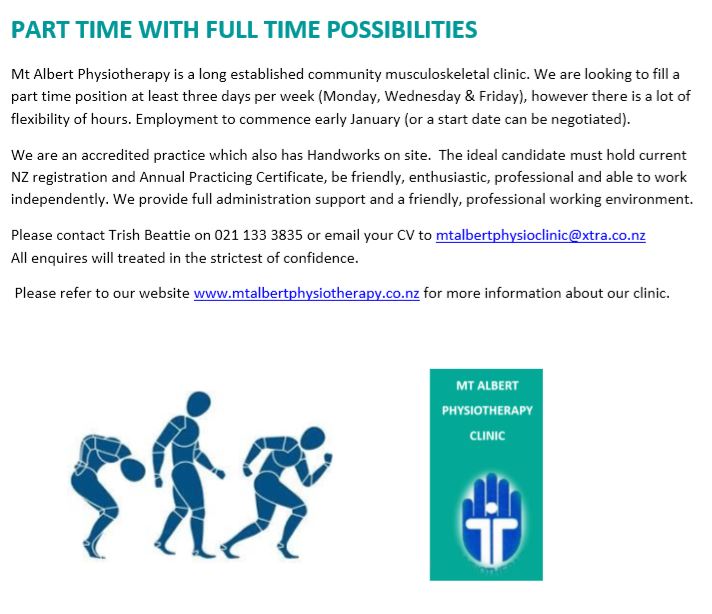 Jan Polson Physio is looking for an enthusiastic and motivated Physiotherapist to work full time (part time considered) in our Accredited Physiotherapy Clinic in Otumoetai, Tauranga. Otumoetai is close to Tauranga City, Bethlehem and Mount Maunganui.
We are a well-established clinic treating a variety of age groups with primarily musculoskeletal conditions including acute, home, work, recreational sports injuries and post -operative rehabilitation.  We do not have Vocational contracts but will often be asked to subcontract. The clinic has a fully equipped Pilates Studio which is used for Mat and Equipment classes, and for individual rehabilitation.
Having a background in manual therapy, McKenzie Therapy, Pilates and acupuncture is an advantage.  Whether you are a new graduate or more experienced you will receive professional support and mentoring from the Principal to help grow your skills. All Physio staff receive financial assistance for your Professional Development.
We have two excellent reception staff and you will also work alongside a Sports massage therapist and two Hand Therapists.
Applicants must have NZ residency or valid NZ work permit and a current NZ annual practising certificate.
Please forward your CV and a covering letter to Jan Polson at  janpolson223@gmail.com or phone 07-5763606 for an appointment with Jan Polson.
PART TIME PHYSIOTHERAPIST – AUCKLAND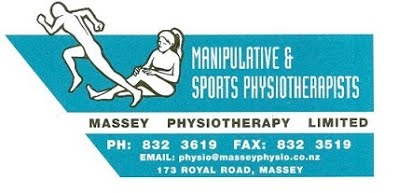 Massey Physiotherapy has a part time position available for a musculoskeletal physiotherapist. The clinic has a strong manual therapy and exercise rehabilitation focus.
The clinic provides high quality health care services to the community and will give you an opportunity to work in a friendly, supportive environment managing a variety of injuries including sports, occupational, spinal and post-surgery rehabilitation and pain management gym programmes.
Remuneration package negotiable dependent on experience and qualifications.
The successful applicant must be New Zealand registered and have a BHSc (Physiotherapy) or equivalent qualification and current Annual Practicing Certificate.
Please email CV to Maureen at maureen@masseyphysio.co.nz or phone 09 832 3619 or 027 257 2210.
Physiotherapist Position in Hamilton – Full Time / Part Time

Highly successful expanding private practice in Hamilton, New Zealand We are looking for a qualified NZ registered physiotherapist to join our team, full time or part time. We are a long standing, accredited private physiotherapy practice in central Hamilton, New Zealand. We work with many elite athletes and sports teams. The Senior Clinical Advisor is the physiotherapist to the New Zealand Olympic Rowing Team and is a High Performance Sport New Zealand Provider. There are two additional clinic sites, one at a private school and another based at the University of Waikato. We treat a variety of clientele – acute, sports, post-operative and general musculoskeletal conditions. Great mix of regular and loyal clientele. We are a fun team of one Occupational Therapist, five Physiotherapists and three reception staff. We provide an excellent mentoring and teaching programme, along with funding for continued post graduate studies to keep your skills growing no matter what stage in your career you are. Excellent earning potential. Let's talk further if you are full of passion and drive for excellence.
E-mail your application and CV to sufia_a@yahoo.com or contact Sufia Ali on 021 131 6839 for a discussion.
Senior Sports Physiotherapist Required for Part Time or Full Time Role – Ponsonby, Auckland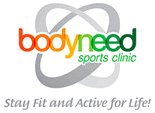 Are you a sports physiotherapist focused on getting truly life changing results for your clients? Would you like an opportunity to join a multidisciplinary clinic that actually works together?
We are a team of physiotherapists, massage therapists and Pilates trainers who work together on a daily basis to achieve outstanding results for our clients. An opportunity to join our team at Bodyneed in either a full or part time role is now available. Our clinic has a strong manual therapy and exercise rehabilitation focus. We are well renowned as endurance athlete specialists with many top NZ athletes as clients.
This is an opportunity to stretch your wings as a physio and build your profile as a top sports physiotherapist. To be successful in this role you will have great networking skills and an understanding of what it takes to build your own client base. Experience in Pilates and sports biomechanics and Post Graduate qualifications would be an advantage.
We have a purpose built clinic and rehab studio, we are fully computerised and have an amazing team and an excellent in-house training programme. Competitive rates, incentives and further bonuses available for the right candidate.
Join a team that strives to be the very best!
Please send your CV and cover letter to bodyneed@bodyneed.co.nz
Noomi Johnsson, Practice Manager, Bodyneed Sports Clinic, Ponsonby, Auckland.
We look forward to hear from you!
Senior Physiotherapist – Johnsonville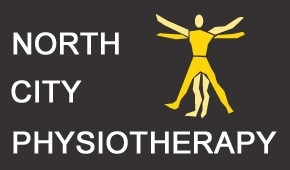 North City Physiotherapy is seeking a senior physiotherapist to join its existing team in a clinical lead role. We are looking for an excellent physiotherapist who can play an important role in our clinic. The position will be based in our Johnsonville clinic predominantly with full administration support. Johnsonville is just 10-15 minutes down the road from Wellington city.
Our clinic provides general musculoskeletal physiotherapy and rehabilitation as well as have strong involvement with ACC Vocational Rehabilitation, pain management, and the mobility in action programme. We sponsor and support numerous football, rugby, and rugby league clubs. We also provide services onsite to local colleges and have long standing relationships with local GPs and businesses in our communities.
We are absolutely committed to professional development, and hold weekly inservices, case meetings, mentoring & support post-graduate study where possible. This role also involves mentoring of new graduate physiotherapists as well as at times final year physiotherapy students through the University of Otago. North City Physiotherapy is a respected and long standing provider of physiotherapy services in Wellington. We operate several clinics in the northern suburbs throughout Porirua, Tawa, and Johnsonville.
Remuneration for the right candidate will start at $70,000 (minimum) on a fixed salary with further progression eminent. Physiotherapists who would like a position of responsibility and to become a leader within an organisation are encouraged to apply or find out more. Applicants must have NZ residency or a valid NZ work visa, as well as a current New Zealand Practicing Certificate or working towards registration.
Please visit www.northcityphysio.co.nz for more information or contact Atif Razvi at northcityphysio@xtra.co.nz
Musculoskeletal Physiotherapists – We Want You!

Habit Group is currently seeking two Musculoskeletal Physiotherapists to join our Hamilton and Wellington teams. This is an exciting career opportunity for any Physiotherapist looking to be part of a large and dynamic multidisciplinary team. This position will provide the opportunity to further your skills including funded post graduate study opportunities. Weekly in-services including regular external speakers provide a significant contribution to your CPD requirements.
A competitive remuneration package including a continuing education programme and relocation/sign on bonus make this a highly desirable position for any Physiotherapist looking for a new opportunity. Applicatants for this position should have New Zealand residency or a valid New Zealand work visa, as well as a current New Zealand Annual Practicing Certificate.
Please contact Rhea Sequeira-Kamath on 021 886 47 or apply directly here.
Senior Manual Therapy Position – Wellington Private Practice

Khandallah Physiotherapy Centre (KPC) is looking for a senior full-time manual therapist who has sound clinical experience and copes well with the responsibilities which go with this position. We are keen to engage a physiotherapist who enjoys being an integral part of a great team. KPC is a progressive accredited practice which focuses on achieving functional outcomes.
KPC has a diverse and interesting client base. We offer excellent working conditions in our two practices at Khandallah and Churton Park. Professional development and access to second opinions is supported. We are fully computerised using the Gensolve practice management system. Come and join our dynamic team of Kirsten Davie, Jill Howard, Kate Lynskey, Laura Willson, Matt Szeto and Megan O'Riordan.
KPC provides a regular salary rather than the fluctuations of payment per patient. The salary package includes funding for courses.
We welcome your job application. Please apply by sending your CV to Jill Howard at jill.howard@kpc.co.nz.